Identifying Carpenter Ants
Carpenter ants are one of the largest types of ants and are usually fairly easy to identify. They can start as small as 1/16 of an inch and quickly grow to a 1/2 inch in size. The queen is much larger and can easily grow up to an inch in size. Swarming and flying carpenter ants are often mistaken for termites. Termites are somewhat uncommon in Northern Michigan and it is almost always carpenter ants that clients are finding.
They can be found in the home and swarm towards windows to get out. Swarmers, as we like to call them, are the reproductive ants. They attempt to access the outside to produce satellite nests. After approximately a week they can exhaust themselves trying to get outside and die. There is no treatment to get ride of the swarming and flying carpenter ants, however this indicates that there is a working nest in your home or structure that does need to be treated by a pest control professional.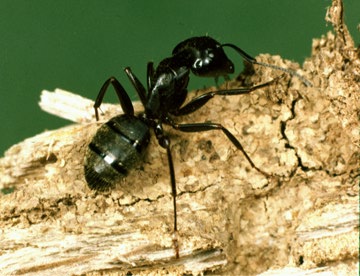 Will They Harm Me?
Carpenter ants can bite on contact, however they are not venomous. They prefer to eat things with protein and sugar, including honeydew, jelly, and meats they come across within the home. Carpenter ants can travel up to 1,000 ft. away from their colony to forage their food, and depending on the weather, can be seen both inside or outside the home. On nice sunny days, typically from late March to mid-June, carpenter ants nests can be "woken up" and the ants may suddenly start appearing in and around your home looking for food.
Homeowners can do their own inspection to identify a carpenter ant issue. Carps are typically the most active in the afternoons on warm, sunny days. It is easy to find the ants the outside corners of your homes. If you identify a carpenter ant infestation, it is very important to have Hogarth's Pest Control treat the issue. Carpenter ants can cause an extensive amount of structural damage to your home by chewing and destroying wood, similar to termites. Clients sometimes go years without realizing they have a carpenter ant nest.
Treating for Carpenter Ants
If carpenter ants become overwhelming, you may wash the countertops or use over-the-counter gel baits. DO NOT SPRAY OR USE GRANULES under any circumstances. If you had previously had another company treat or if you used any type of over-the-counter spray or granule, it will effect the outcome and how long it can take for our treatment to work. Gel baits can help to kill off some of the ants for the time being, but sprays and granules may only make the situation worse. Carpenter ants are EXTREMELY smart and can tell when their fellow ants are dying off. Carpenter ants can detect when a product has been put down and may avoid the area all together.
They may work to avoid being seen by moving outside or relocating their nest. Gel baits will not kill off the nest. Hogarth's Pest Control uses an un-detectable product that works by using the ants to take the product from outside to the nest itself, killing off the nest and the colony within 14-21 days of treatment. Once the carpenter ants have been treated for and the nest has been killed off, Hogarth's can do an exterior preventative spray for all crawling insects, bees, wasps, and hornets. It is important to know that these are two different treatments and must be done at separate times.
Discovering A Nest
Occasionally, clients are unaware that they have carpenter ants until after their yearly spring treatment has been done. A typical exterior preventative treatment works to keep all crawling insects, bees, wasps, and hornets from getting inside the structure. However, this can trap carpenter ants inside the walls if not identified before-hand. If this is the case, Hogarth's will need to do an interior ant treatment to rid your home of the ants. The interior treatment is non-invasive; we treat the baseboards, cracks and crevices.
Within the 21 days after treating for carpenter ants, it's extremely important not to kill the ants as you see them. It is imperative for the ants to cross the product and transfer it back to the nest. Hogarth's Pest Control guarantees your home to be carpenter ant free until the snow flies in the fall, however they can return to the structure in the following spring. It is very important to have Hogarth's do a preventative spray every spring to avoid re-infestation.
Avoiding Carpenter Ant Infestations
Carpenter ants seek out moisture and food. The homeowner can prevent against carpenter ant infestations by correcting moisture problems and trimming tree branches to avoid touching the roof. Be sure to clean gutters regularly to avoid water run-off onto decking and other parts of the structure.
If you suspect a carpenter ant issue, be sure to consult Hogarth's Pest Control for a professional treatment and to avoid re-infestation.